Advoca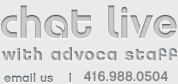 whats new
Twitter is over capacity. Too many tweets! Please wait a moment and try again.
follow us on twitter
Web Site Design. Web Development. Custom E-Commerce Development. Graphic Design.
Advoca Provides Full Service Web Design and Development
Advoca Interactive is happy to offer our clients a complete menu of web design and development related services. Our experienced team of web design and web development pros are highly trained in all the latest design and coding techniques. With over 500 projects under our collective belts you can rest easy at night knowing that your project is in good hands.
Whether you need to pull together a new web site design, launch a powerful e-commerce engine to operate your online store, or achieve a compelling logo and branding package for your new business Advoca is the right partner to ensure project asset excellence.
The talent of the Advoca web design and development team is backed up by our client-focused project management process. From Discovery to Planning, through Execution, Testing and Maintenance, our step-by-step approach to achieving the best results possible on each and every web design and development project will leave you smiling and well-informed.
Advoca's full menu of web design and development services include:
Contact our team of web design professionals today to bring your web design and development vision to life.