Advoca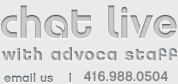 whats new
Twitter is over capacity. Too many tweets! Please wait a moment and try again.
follow us on twitter
Graphic Design by Advoca
Put Advoca's Eye-Popping Graphic Design To Work For You!
Content may be king but people still tend to judge a book by its cover. World-class graphic design by the Advoca Creative Team ensures that your site or print graphics tell your marketing communications story clearly and beautifully.
Whether the graphic design style you need is clean and corporate, high creative, technical diagrams or kid savvy primary colors, Advoca graphic design will keep eyeballs glued to your web or print marketing project with our innovative design solutions.
The Advoca Creative Team typically employs the following process in creating custom graphic design for our global client base:
Detailed analysis of your web or print marketing objectives.
Review of benchmark work to help in project planning cycle.
Authoring of a project plan and creative brief to establish the brand guidelines, emotional tone, style and content of the graphic design assets to be produced.
An interactive production cycle, including iterative graphic design asset demonstrations and collection of client feedback.
Completion of the final graphic design asset(s) and integration with existing assets (web site and/or print work.)
Preparation of graphic design source files for archiving and future use.
Whatever your graphic design project you can rest easy knowing that the Advoca team will bring dynamic creative energy to the table and blow your expectations out of the water.
Contact the Advoca Business Development Team by phone (416-480-9558), or
email
today to find out how we can help with your next graphic design services project.