Advoca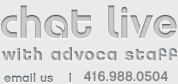 whats new
Twitter is over capacity. Too many tweets! Please wait a moment and try again.
follow us on twitter
World-Class Web Design and Programming by Advoca
Advoca Interactive designs truly powerful custom web site development.
Advoca Interactive designs truly powerful custom web site development.
Our combination of creativity and web business savvy will attract the right audience for your product or service and ensure that your web site users find exactly what they need as quickly as possible. Advoca Web Site Development helps your message pop right off the screen.
Whether you need web site development for a simple brochure site or an internationally focused e-commerce web site Advoca's web design and development team is ready to help.
Advoca web development projects are clean, attractive, easy to navigate and 100% on target vs. your intended audience. Our code is developed by hand to international XHTML standards and provided for your future use at project termination.
Our cutting edge web design and development team members all boast at least 5 years of experience as web design pros. We hire the best, and then we make them even better through extensive web design, e-business and strategy training.
Please have a look at our web development portfolio to review our latest web site programming work.
All Advoca site design and development projects are completely custom and born from of our extensive Discovery and Planning process and with a focus on ensuring that all of your needs and expectations for the web design process make it into the best final web design assets possible.
Advoca currently provides web design and development services to clients as far flung as Toronto, New York, Los Angeles, London, Sydney, Chicago, Miami and Taipei and our globally focused web design and development team stands ready to help your project fly.
Advoca is the web site design and development team you've been looking for. On larger web application development or e-commerce design projects the Advoca Web Development services team works with members of our Web Design and Branding teams to create web sites that are as beautiful as they are powerful.
Advoca provides a 10-15% discount on all web design projects for charities, "green" manufacturers, alternative energy and related environmental organizations, groups working on human rights issues, etc.
Please contact the Advoca Business Development Team today by phone (416-988-0504), or
email
to find out how we can help with your next web design and development project.