Advoca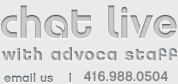 whats new
Twitter is over capacity. Too many tweets! Please wait a moment and try again.
follow us on twitter
BoxStep™: The Advoca Project Management Process
Learn More About How We Turn Smart Planning Into Winning Projects
At Advoca the project planning and execution process is client-focused. Whether you need web design, web development, e-commerce, search engine optimization or graphic design our Project Management, Creative and Programming teams are standing by to make your project a wild success.
What does this mean?
It means that we go way beyond the obvious, employing a detailed
Discovery Phase
&
Project Planning
process to set up a stellar
Project Execution
phase. Once the project is over we make sure that the
Project Wrap-Up
is concise and any required
Project Maintenance
is equally effective and hassle-free. Here's how:
Discovery Phase
In the Discovery Phase Advoca business development and project management staff will work closely with you and your team to fully explore all the relevant factors which could improve your project results. Depending on the nature of the project our team may review any or all of the following:
Budget range
Required launch dates
Existing web sites and other marketing efforts
Current branding guidelines and corporate communications policies
Intended client and/or user demographics and sample profiles
Technology platform or delivery requirements
Web site hosting needs
In most cases the Discovery Phase will be executed via a series of interviews (either by phone or in person) using pre-developed surveys for the project type at hand.
The result is a solid research center to support the next step: Project Planning.
top
Project Planning
In the Project Planning Phase your assigned Advoca Project Manager will become your single point of contact with our team.
Your Project Manager will strive to create the most comprehensive Project Plan possible. Advoca Project Plan documentation collects project budget, timelines, objectives, and technical and creative requirements into a succinct planning and success analysis tool that will ensure your project roles off the virtual assembly line smoothly and with best-of-breed creative and technical quality.
Once complete the Project Plan will be shared with your team for potential revisions before being added to your Project Contract.
Typically the signing of your Project Contract and submission of a deposit payment will signal the beginning of the Project Execution phase wherein your assigned Project Manager will handpick and manage the various design and technical specialist staff that will comprise your project team.
top
Project Execution
During the Project Execution phase you will be following a schedule as laid out in the Planning Phase for the creation, delivery, review and revision of needed project assets.
The roll-out of assets is different from project to project but the following represents a typical roll-out for web design and development project assets:
Selection of Corporate Colors
Logo/Branding Design
Web Site Map Planning
Web Site Wireframe Design
Web Site Layout Design
Web Site Coding
Web Site Content Insertion
Web Site Launch
Please talk to our Business Development team members or your assigned Project Manager to explore your potential project execution pattern in more detail.
top
Project Wrap-Up
Once your project is completed your assigned Project Manager will co-ordinate a debriefing to ensure your complete satisfaction with our work.
We will compile all relevant source file assets and final project files and provide you with a CD or downloadable zip file to use in archiving our work.
Your Project Manager will review any needed Project Maintenance schedules and associated budget and/or timeline planning and make arrangements to ensure your maintenance is handled quickly and with minimal fuss.
Advoca Accounting will send you a final invoice and your project file will be closed until our next project together.
top
Project Maintenance
Project Maintenance typically refer to ongoing and evolving marketing efforts such as web site management and content updates, digital marketing campaigns or direct mail efforts.
Whatever your project type your assigned Advoca Project Manager will be happy to assist you with your needed maintenance with the same professional courtesy and marketing savvy as you experienced on your original project.
Naturally, if you are interested in Advoca handling just the maintenance portion of your project we are still more than happy to assist you.