Advoca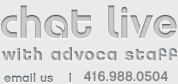 whats new
Twitter is over capacity. Too many tweets! Please wait a moment and try again.
follow us on twitter
Content Management
The last thing you want is to waste your time and money contacting your web team every time you need to make a minor change to your site content.
That's why at Advoca we plan to implement the perfect Content Management System (CMS) for meeting your site management needs during the initial planning of your project.
Whether you want the out-of-the-box usability of a desktop software like Macromedia Contribute or the power and open-source flexibility of Joomla or Drupal our content experts will help you pick the right system for your team. By analyzing your administrative usage patterns, your various intended access levels, and the nature of your content updates we'll provide a solid plan that will result in easy, powerful workflow that unbinds you from our development sphere.
With your permission we'll also put checks and balances in place to make sure that your team has full content control without the ability to damage your brand by unintentionally dismantling your carefully constructed page designs.
Contact our business development team today
to have a friendly chat about the right CMS for you.