Advoca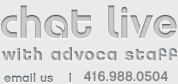 whats new
Twitter is over capacity. Too many tweets! Please wait a moment and try again.
follow us on twitter
Web Site Maintenance Services
Let Advoca Handle Your Ongoing Web Site Maintenance
Advoca Interactive's team of highly competent and experienced programmers and designers are available to manage the ongoing maintenance of your web site.
Whether you need daily content updates, monthly page additions or a seasonal refreshing of your static content, Advoca web site maintenance is cost effective, reliable and technically sound.
Advoca programmers can employ a variety of cutting edge technologies, from existing pre-packaged e-commerce solution suites, to custom content management systems developed in either PHP/MySQL or ASP/ASP.NET/SQL platforms to help you in your efforts to keep your site properly updated.
Whichever maintenance solution you need, Advoca will work with your team to ensure that your site makes use of CSS (Cascading Style Sheets) and includes to make updates of universal page elements like navigation systems, logos and repetitive graphics a breeze.
Contact the Advoca Business Development Team today
for a zero-pressure discussion of how we can help make your web site maintenance activities cost less and do more.