Advoca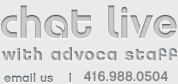 whats new
Twitter is over capacity. Too many tweets! Please wait a moment and try again.
follow us on twitter
Flash Web Design by Advoca
Flash Design & Development for Fantastic First Impressions
Advoca creates fantastic first impressions with
Adobe Flash CS3
.
Our attention grabbing Flash web sites and Flash site highlights can provide your online presence with sound, motion and the ability to leave indelible impressions on your clients or consumers.
Here are just some of the great solutions the Advoca flash design team can add to your web design and development project or off-line presentation:
Animated Home Page Situated Site Intros
Video Clips
On-Site Chat
Interactive Product Demos
Online Flash Video Games
Theme Music and DJ Booth Technology
All Advoca Flash solutions are fully HTML and browser compatible, and designed to minimize download and page load times to the most efficient levels possible.
All Advoca Flash projects can be back-saved to earlier versions of Flash technology depending on project and end-user needs.
Note: Flash design is not appropriate for all web site design and development projects. A representative from the Advoca business development or project management teams will be happy to discuss the pros and cons of Flash 8 projects.
Contact the Advoca Business Development Team by phone (416-480-9558), or
email
today to find out how we can help with your next Flash Design project.