Advoca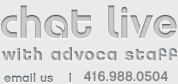 whats new
Twitter is over capacity. Too many tweets! Please wait a moment and try again.
follow us on twitter
Search Engine Marketing by Advoca
Your Site Is Only As Good As The Traffic It Captures... Let Advoca Help
Advoca Search Engine Marketing services include all of the most current techniques in gaining the maximum traffic for your web site. Depending on the goals of your site you may benefit from some or all of the following Advoca SEM strategies and campaign types:
Natural SEO
Search Engine Optimization (aka SEO) Services involve the adjustment of web site code and content to ensure maximum visibility for your project within the world's most important search engines.
As a Search Engine Optimization team with ten years of experience Advoca provides professional SEO services to companies that demand results.
With Advoca SEO services there are no tricks or silly promises. The reality is that search engine optimization is highly competitive with more and more companies in your industry performing search engine optimization on their sites every year you need an SEO firm that can deliver results and keep your SEO marketing up to date and your site rankings ahead of the pack.
The Advoca approach to search engine optimization is manual, well researched and totally legal. We don't make false SEO promises or guarantee specific results. Instead, we perform SEO services the professional way, with plenty of SEO research interviews and analysis of your SEO marketing and sales objectives, SEO copywriting, and measurement of results on a weekly or monthly basis to track SEO performance and ensure the effective evolution of your SEO strategy.
Advoca doesn't use SEO software tricks, and with our SEO services team there's no risk of getting black-listed by the search engines as with some of the "big promise" firms.
Instead you can expect to achieve consistent month-to-month improvements of your search result rankings, with achievement of your maximum SEO potential within 2-6 months (depending on your site traffic) abundance of inbound links, and adherence to our SEO copywriting development recommendations. At your discretion our team will perform monthly maintenance on your SEO profile to continually adapt and adjust for best results.
For North American clients Advoca optimizes sites primarily for Google, Yahoo and MSN, which together account for 90%+ of all Internet Searches in North America. We also service international search engine optimization clientele in English speaking countries.
Contact our team
today for more info.
Contact the Advoca Business Development Team today by phone (416-480-9558), or
email
to find out how we can help with your next web marketing project.
Pay-Per-Click Campaigns
When you need to get the word out fast and drive highly targeted traffic to your site in a hurry, few options will fill the need faster and more accurately then a well managed Pay-Per-Click campaign by Advoca.
In simple terms a Pay-Per-Click (aka PPC) campaign means that your business or organization pays for each visitor sent to your site through text ads that appear alongside normal search engine results.
At present over 90% of all PPC campaigns are run through two competing platforms: Google Adwords and Yahoo Search Marketing. Each platform sells advertising space that shows up within their respective search engine results as well as optional placement in a network of associated partner search engines and content publisher sites.
In both cases, campaigns are generally constructed around three major components:
Keywords
Copy Decks
Landing Pages
The Keywords
are the Advoca researched list of words and/or phrases that we believe will be used most often by users who are looking for your set of specific products, services and information. Our keyword lists are cross-referenced, hand-picked (keyword selection automation is never accurate!) and updated regularly to ensure steadily improving campaign results.
Copy Decks
represent the various separate ad copy sets that will be run on your behalf during your campaign. For any given campaign objective Advoca will often start with 6-8 separate ads (and many more on complex multi-product campaigns). We then track the results of the copy decks inside the ad platforms and add, edit or delete ads depending on what is working best to achieve your objectives.
The use of
Landing Pages
is a more advanced technique that almost always yields major improvements in site conversion and especially for sites that have multiple product or information categories and/or sub-optimal site maps and navigation planning. In its most basic form a Landing Page can be thought of as a separate entrance to your site from your usual home page. This page will contain a very specific content focus and therefore the ability to rank especially well in search engines for that focus.
Eg: If you sell three very distinct products such as solar panels, green water heaters and low flow toilets then it will be very difficult to get your home page which by its very nature must summarize your entire offering in order to rank well for all three concepts. Since each product line represents a very distinct search objective on behalf of your users then by creating a separate landing page you maximize your web profile. Each landing page would contain background content and product information about a single topic or theme and you gain the ability to capture that highly focused traffic and dramatically increase your conversion rate with that subset of your user base.
Though all PPC platforms allow clients to access their accounts and manage campaigns directly studies have shown that the complexity of these systems yield 50-250% better results when managed by trained SEO professionals. Advoca provides end-to-end PPC campaign management services to over 25 client across the globe.
Advoca provides landing page web design and web development services alongside our SEO offerings.
Contact our business development today
to discuss how best to get our SEM/SEO strategies working for you.
Link Building Campaigns
One of the most important factors in determining the search engine rankings for your site is the number of links that are pointing to your site from other 3rd party sites. Ideally the search engines want to see a slow, steady increase in the number of these inbound links to demonstrate the legitimate growth in popularity of your site and its relevance for assigning higher rankings.
The Advoca Search Engine Marketing (SEM) Team can be put to work generating the right number and frequency of new inbound links. Since links from sites that rank well for your most relevant keywords are the best links to get, our team will focus on finding complementary, non-competitive linking opportunities with directories, news sites, blogs, industry associations, message boards and other relevant opportunities to steadily grow your web site presence and drive more traffic to your site.
Social Media Networking
At this point almost any site without complementary social network spread across the major social networking platforms is missing out on major traffic generation and stakeholder communication opportunities.
Between the various blog platforms such as Facebook, Twitter, MySpace, LinkedIn, FourSquare, Digg and the next big thing on the horizon, the Advoca SEM Team is ready to help explode your presence amongst the people that most want to hear what you have to tell them. Leveraging these free platforms we'll build dynamic and vibrant communities around your brand that can personalize your offerings with personal commentary to build buzz around upcoming launches and events, gather valuable feedback for future products and services revisions... and that's just the beginning.
Talk to our Social Media experts today
to figure out the best approach for your site or brand today.