Advoca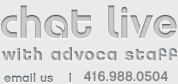 whats new
Twitter is over capacity. Too many tweets! Please wait a moment and try again.
follow us on twitter
Web Site Usability
Get The Experts On Your Side
It is no longer enough for your web site to just be present and off the shelf templates are quite simply not enough for your unique needs. Your site users want their online experiences to be fully engaging informative and easy to use and they want it now…or they're gone.
The pursuit of web usability perfection through obsessive attention to detail across your entire site map is core to the Advoca philosophy of intelligent web design. In perfecting your site we will address all of the following usability issues:
Consistent position of branding and main navigation elements
User path analysis and design
Precision oriented gridwork to lead the eye easily to the next step in the experience
Priority relative pixel real estate assignments for all on-page elements
Careful attention to the latest in web, accessibility and browser/platform compliance standards based on up to date market research
Whether you've got an existing web behemoth on your hands in need of some serious user path taming or a critical new e-commerce platform that needs to get your click-to-conversion sequence perfect before you go live the Advoca Senior Partners have the expertise and experience to help get you to the finish line.
Due to our harmonized hourly rates hiring our most senior staff to plan and run your project means a budget similar to working with your average freelance web professional but with significantly more brain power and experience coming to the table and a full team of professionals to execute on your combined planning.
Through our Discovery Process your assigned Senior Partner will walk you through all the necessary thought exercises and research to ensure that the fundamentals driving your usability process are all in place. Who is the target market? How do they use the web? What functionality will they expect to find and how many clicks will you have to grab their attention and help them fulfill their session goals? How can the functionality be best arranged to ensure that users convert to action quickly and confidently?
Once your project plan is filed the
Advoca BoxStep™ Project Management Process
takes over to ensure that all your careful planning with our executive team is executed to the letter.
Contact our business development team today
to have a friendly chat about how we can help whip your web site usability into shape.